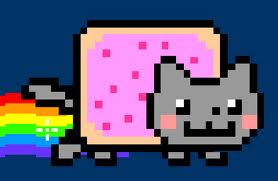 Appearance
Nyan cat can be recognized immediately: it's (Nobody knows what gender it is!) body is a Poptart. No wonder some people call it Poptart cat. Also, it's design is 8-bit. these are most of the times the first seen things of it's appearance. Further, Nyan cat has grey fur and always has an rainbow behind it.

What Nyan cat is
Nyan cat is (of course) a cat flying in space creating rainbows wich come out of it's...ass. It's sharing happiness over the earth.
Video
The original video was first uploaded by saraj00n. In the video, nyan cat flew trough space, where it was spreading a rainbow out of it's ass. Several stars were involved in the background. Together with all this, you will hear Nyan cats song.
Variations
There are many Nyan cat variations, one of them is Nyan dog. Other Nyan cat variations are Nyan cats based on certain countries. (German nyan cat for example.)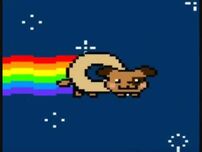 Games
Also, Nyan cat has 4 games (Also is because Trollface had 4 games to.) but this time, three of them are found on www.mylostgames.com, the other one is found on www.silvergames.com/nyan-cat. (info on other pages soon.)