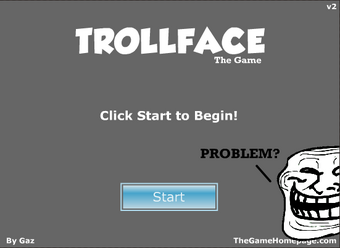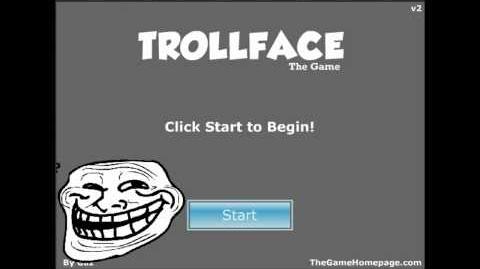 The Trollface game is 1 of the 4 Trollface games found on
www.mylostgames.com
. It's the original
Trollface
game, however it can't be beaten. It's because Trollface keeps standing before the start button. Some people think:
Ohhhhh! Click start to begin!!!
But when you click that, you will be send to Youtube, where you will get Rick Rolled. So it's actually a fake game. Sort of.
Specialities
Unplayeble game.
Chance for getting Rick Rolled.
Trollface keeps standing before the (fake!) start button.(so no tricks to click it.)
Sometimes, Trollface says PROBLEM?.
Ad blocker interference detected!
Wikia is a free-to-use site that makes money from advertising. We have a modified experience for viewers using ad blockers

Wikia is not accessible if you've made further modifications. Remove the custom ad blocker rule(s) and the page will load as expected.