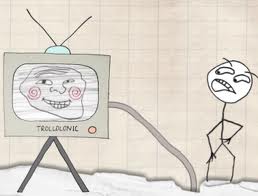 Trollface quest is a game created by
ppllaayy
and A4 games and also spill games. This game is a playeble game, while the
The Trollface game
wasn't. In this game, you don't play Trollface, but a Stickdude. (see picture.) you'll play trough a plenty of weird levels made by Trollface, wich the most of them are a little tricky to get trough, but if you are smart enough, you will beat the game. If you want to play 1 of the 16 games, this is the best one.
Those games are created by PPLLAAYY. See here [1]
not created by PPLLAAYY
Ad blocker interference detected!
Wikia is a free-to-use site that makes money from advertising. We have a modified experience for viewers using ad blockers

Wikia is not accessible if you've made further modifications. Remove the custom ad blocker rule(s) and the page will load as expected.