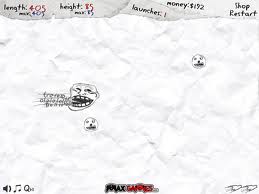 Trollface launch is 1 of the 4
Trollface
games found on
www.mylostgames.com
. This is the only Trollface game where you DO play trollface, not just your cursor or a Stickdude. When you start the game, you will launch Trollface for the first time. When done, you will get some money and create you first record. If you have enough money, it is possible to buy some upgrades. Like arms, legs, hats and other stuff. The more upgrades you buy, the further it's possible to shoot Trollface. Both your length and height will be counted for your record. The number of times Trollface is launched will also be counted, but this will not be counted for your record.
Specialties
Second best Trollface game.
Only game where you do play Trollface.
Does get a little boring after a while.
Secret super upgrade!

03:09

Walktrough.
Ad blocker interference detected!
Wikia is a free-to-use site that makes money from advertising. We have a modified experience for viewers using ad blockers

Wikia is not accessible if you've made further modifications. Remove the custom ad blocker rule(s) and the page will load as expected.